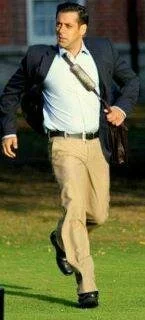 Salman Khan in Dublin during the shooting of "Ek Tha Tiger"
The most Dabangg Khan of Bollywood who has rocks the boxoffice with his three back to back hits Dabangg, Wanted and Bodyguard have to visit Us again for surgery as he has not fully recovered from nerve disorder Trigeminal Neuralgia.
After his first surgery his pain has reduced to some extent but it has started again. The reason behind this is that he was shooting in Dublin for his upcoming flick "Ek Tha Tiger", and the cold weather of Dublin affects his health again.
He is in India now for the shooting of Big Boss season 5.