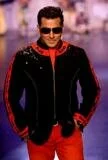 Kind hearted Salman once again proved that he can do anything for his buddies, this time for Aaamir Khan.
According to sources Aaamir Khan's Dhuan clashes with Salman's 'Ek Tha Tiger', so he requested Salman to postpone the release of his movie. So Salman with big heart postpones release date of 'Ek Tha Tiger' to Eid 2012 for Aamir's sake.
Salman went to Yash Raj office and requested director Aditya Chopra to change the release date of       'Ek Tha Tiger'. Aditya agreed and change the date.
This is not for the first time when Salman helped someone, he is always ready to help his close ones.